Who We Are and Why We're Doing This
49,000 lives

could be saved every day.
More than One Trillion dollars is spent fighting heart disease every year.

There have been advances, but 49,000 lives are still lost each day.

Environmental cardiology studies show how heart health is connected to stress that's triggered by your environment.

Standard therapies mostly don't target this stress.

The Nature of Longevity describes therapies that do, and which could save many more lives if scaled up.
Douglas Mulhall is a biotech entrepreneur, film maker, podcaster, and former national TV network CEO. He co-founded Elastrin Therapeutics, a company dedicated to reversing damage to arteries in cardiovascular disease. His career focuses on creating healthy products and buildings. He co-founded environmental health projects in Argentina, Brazil, Canada, Europe, and the U.S. He co-created award-winning buildings in Sweden & Netherlands, as well as healthy materials for the building, packaging & printing industry. He is chief developer of several eco-design guides. He published on many topics including calcification in heart disease in journals like Nature's Laboratory Investigations.

Other best-selling books
by Douglas Mulhall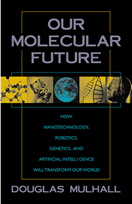 Examples of Publications and Media See media page for more.
​
Author of the best-selling Our Molecular Future: How Nanotechnology, Robotics, Genetics, and Artificial Intelligence will Transform Our World (Prometheus Books 2002), recommended by New Scientist magazine and featured in A&E's Modern Marvels series' Future Tech.
​
Co-author The Calcium Bomb (TWC 2004) describing innovative therapies for cardiovascular disease.
Co-published Creating Buildings with Positive Impacts, focused on healthy indoor environments.
Chief author of the first Circular Economy strategy for a national government
Co-author of the first Circular Economy Blueprint for Economic Development Zones.
Chief author of the first Guide to Wastewater Recycling in Tropical Regions.
Co-author, the first journal paper on Materials Passports for healthy products.
Co-founding CEO of the national TV and Radio broadcast network, ICTV.
Narrated and was featured in the ARTE television documentary Dangerous Calcium?,