Who We Are and Why We're Doing This
49,000 lives




could be saved from heart disease every day.
More than One Trillion dollars is spent every year fighting this with limited success.
​
In 2004, the first environmental cardiology study signaled that our heart and environment are connected. Yet, standard therapies that target this connection are hard to find.
Most cardiology professionals don't have access to this kind of training during medical school. For example, the impacts of noise and low levels of toxic metals on heart health are rarely taught, although chronic noise is one of the leading causes of premature death.
There are solutions. To bring attention to them, the author of The Nature of Longevity is starting a transformative Environmental Health project dedicated to empowering patients and healthcare providers advocating for innovations that have real impacts on reversing environmental damage to our health.
Together with our allies and partners, we're engaging and mobilizing activists and leaders from all backgrounds and walks of life. Get in touch to learn more about our mission and join us today.
Douglas Mulhall is an accomplished film maker, television executive, and published author with a career in products, buildings and systems designed to improve human and environmental health. He co-founded Environmental Health startups and projects in Argentina, Brazil, Canada, Europe, and the U.S. He introduced Environmental Health to award-winning schools in Sweden, and healthy materials for the packaging & printing industry. He co-founded the Healthy Printing Initiative and co-authored a standardized digital fingerprint for healthy recyclable products, which is being adopted globally by the International Organization for Standardization (ISO). He is chief developer of several Eco-design guides with multinational companies. Academically, he has published in the Nature journal Laboratory Investigations on the topic of calcification, along with the discoverer of calcifying matrix vesicles.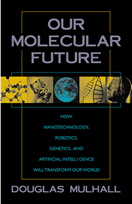 Other books
by Douglas Mulhall
Publications and Media
​
Co-author The Calcium Bomb (TWC 2004) describing innovative therapies for cardiovascular disease, and author of the best-selling Our Molecular Future: How Nanotechnology, Robotics, Genetics, and Artificial Intelligence will Transform Our World (Prometheus Books 2002), recommended by New Scientist magazine. In 2019, co-published Creating Buildings with Positive Impacts, focused on healthy indoor environments. Integrated Environmental Health into business & policy as chief author of the first Circular Economy strategy for a national government and co-author of the first Circular Economy Blueprint for Economic Development Zones. Chief author of the first Guide to Wastewater Recycling in Tropical Regions. Co-author, the first journal paper on Materials Passports for healthy products. Co-founding CEO of the national TV and Radio broadcast network, ICTV. Narrated and was featured in the ARTE television documentary Dangerous Calcium?, as well as A&E's Modern Marvels series' Future Tech. Has been interviewed by hundreds of media including CNN, NBC News, and CBS News.
​
​